Hi all, time for another edition of Movies this weekend! First, I want to announce that I'll be hosting the
Carnival of Cinema
next week, so go ahead and get your entries in for that. It's a great way to gain exposure for those movie blogs! Another great way is to check out the
LAMB
! Oh, if you're submitting for the carnival next week, the link might be changing (as in that might be for this week), so I'll be sure to update if it is.
Anyway, we've got a few pretty big releases this week (one of which I think will actually make it), so let's get started.
Stop Loss
- A military policy preventing a serviceman or woman from retiring once their term of service is over, due to the necessity of their position. Basically known as a backdoor to bring men and women back to the battlegrounds, this policy has affected thousands of Americans through their terms of service. Sargent Brandon King is just another who has been re-recruited back into the military. An emotional drama that follows King, a hero who has fought for America already, as the military tries to bring him back into their ranks.
How's it gonna do
- I think that this movie, like most MTV movies with strong messages, will do quite well. It's the lower profile movie of the ones that are opening this weekend, but it does seem pretty interesting. In researching this post, I actually asked someone what it meant. From his response, it does seem that it's an emotionally draining experience. With a million man military, is this really necessary? We won't know for sure, but this one will definitely give us a look into how this affects the lives of those who fight for our country.
Gross wise, this does have strong competition, especially with one of the others opening this week, and holdover from Horton. I hope that this one will make it to #2, but I think that it will most likely be #3 or 4 this weekend. Maybe you guys can change that by going to this one!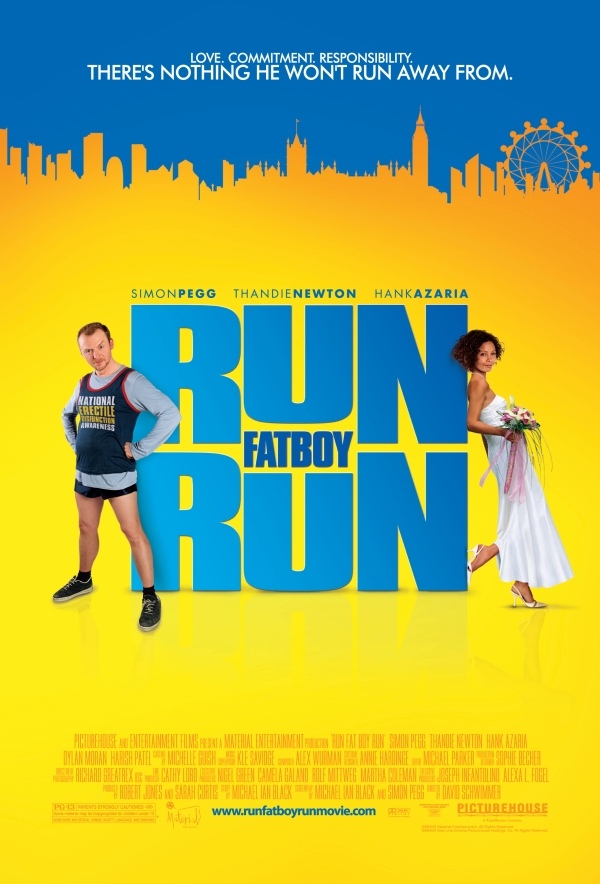 Run, Fat Boy, Run
- Dennis is a normal guy, who does normal things. He smokes, and is overall, a pretty nice guy. However, a few years ago, when he was at the altar with his pregnant fiance Libby, he ran away. He didn't believe he was good enough for her, so instead of ruining his life, he ran away from the woman he loved. They still see each other all the time because of their 5 year old son, but there is no romantic connection anymore. However, Dennis realizes that he's still in love with Libby. She, on the other hand, has found someone else Now, Dennis must take drastic measures to try to show Libby he is a good person, and try to win her back.
How's it gonna do -
I like the concept behind this movie, but actually forgot that it was coming out this week. For some reason, I thought that this was a limited release. Anyway Simon Pegg always seems to have a certain appeal, so I suspect that this film will do quite well. I'm gonna go with #3 for the weekend... and I'll try to see this if I can. My theatre didn't get this one, so it might be a bit tough.
21
- Inspired by a series of true events. Ben Campbell is one of the brightest minds in the country, attending MIT, one of the most prestigious universities in the country. However, he finds that he can't afford the steep tuition bill that comes with having the best education. Ben is recruited into a group of students who go to Las Vegas every weekend and use their minds to turn the blackjack odds in their favor. While counting cards as they're doing is not illegal, they must stay on their heels and try to stay one step ahead of the casino's enforcer as he monitors their behavior very closely.
How's it Gonna do?
- This is expected to be the big movie for this weekend, and I think it will be. It's had heavy amounts of advertising, and the story is pretty fetching. MIT's in Boston too... well, Cambridge, but that helps. I enjoy going to casinos, and while I don't have the money to really blow on gambling, it's still a fun place to go, and I enjoy the Buffets. I'll actually be planning a trip to one pretty soon. This is definitely my choice for screening this week, and I'll try to watch enough to get a review in. I've actually seen quite a few movies recently, but just parts of them, not enough to review. :-( Hopefully that changes.
Superhero Movie
- From the guys that brought you
Scary Movie
comes
Superhero Movie.
After being bitten by a genetically altered dragonfly, Rick Riker gains superpowers, which he decides he will use to fight evil. However, in his way is Lou Landers, who has taught himself the ability to steal the life force of others. As his new persona, the Dragonfly, will Rick be able to take out Lou Landers and save the world?
How's it gonna do
- I dunno. I think that these types of movies are getting dumber and dumber. However,
Meet the Spartans
did fairly well, so we can never underestimate these movies. It makes an appearance at least in the top 5. I think it's #2 for the weekend.
Well, that's all... maybe I've piqued your interest in this one. Make sure to check out the other LAMBs and
Fletch
for other opinions!